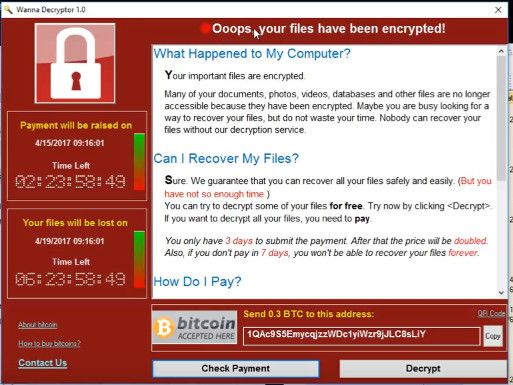 As a courtesy notice, eSudo would like to update you on the latest information regarding the WannaCry Ransomware attack. To help, we have put together an action plan to help fight this threat.
We are working closely within the organization as well as vendors and partners to stay on top of this global threat with notification emails like this so you are in the know.
Please stop viruses from being loaded on your PC in the first place by following best practices to avoid Ransomware listed below:
eSudo is offering a Network Assessment for free and will provide an Action Plan to get your network updated and protected. This is limited to a first-come/first serve basis because of the urgency. Click here for more information: /free-stuff/network-consultation/
Apply Microsoft Windows updates/patches all of your computer systems to protect against this threat. eSudo pro-actively installs updates/patches for servers, workstations, and firewalls as part of our Support Plan. Click here to learn more /it-services/it-management-services.
Make sure to back-up your data to a back-up device or server. Best practice is to back-up your workstation and server nightly and save a copy off-site. This is a very effective way to neutralize any potential Ransomware infections. Click here to learn more: https://www.esudo.com/it-services/business-continuity-disaster-recovery
How do I prevent my systems and devices from being infected?
Unlike other viruses and malware, WannaCry doesn't go after passwords or account names, so the usual changing of your passwords won't really help. The best ways to prevent this from getting onto your systems are:
Don't open any suspicious attachments – Look at each and every email attachment that comes into your inbox. If you spot anything that looks odd, such as say a spelling mistake in the name, or a long string of characters together, then it is best to avoid opening it.
Don't open emails from unknown sources – Be extra careful about emails from unknown sources, especially ones that say they provide business oriented information e.g., bank statements from banks you don't have an account with or bills from any utilities company you don't use. Chances are high that they contain some form of malware.
Avoid illegal or shady-looking sites – Download stuff only from reliable sources or known vendors. Use Google Chrome for your default Internet browser and do not click on any suspicious websites – those are some of the most frequently employed methods for distributing harmful software. Check the website if they have a business address and call the phone number on the the website to verify the company.
Should your files be attacked and encrypted by this malware, then the first thing to do is shutdown your computer and contact us.
"At Home" personal PCs should also be updated and follow the same best security practice!
Windows 8, Windows XP, Windows Server 2000/2003 and other older Microsoft operating systems that are no longer supported by Microsoft maybe vulnerable to attack. Consider updating these systems as soon as possible.
If you need help or believe that your computer has been infected, please submit your request https://www.esudo.com/about-us/customer-service-center/support/
Best regards and practice safe computing