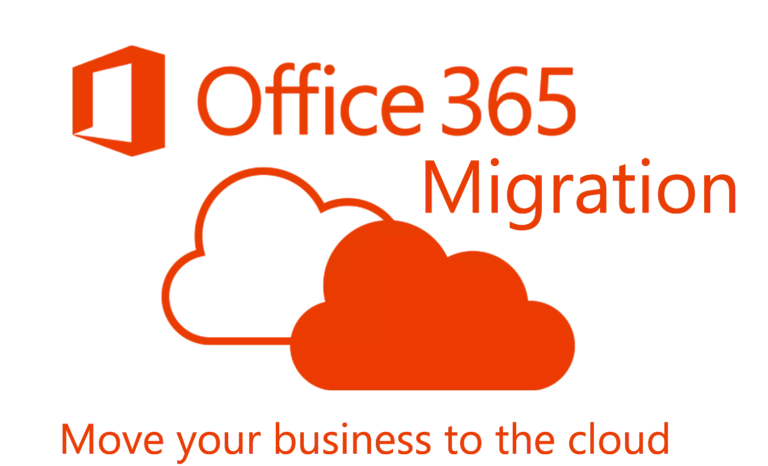 One of the first questions our potential customers want to know when they call our company is…
How much does it cost to migrate emails and files to Microsoft Office 365?
Although this is a very difficult question to answer because not all environments are the same, we will do our best to explain some general pricing guidelines and what you need to consider for the Office 365 migration project. Most customers want to migrate emails, calendars, files, and contacts from Google Workspace, GoDaddy, Intermedia, On-promise Exchange server, or a hosted POP3/IMAP email provider because it does not have all the full features, mobile device management or security control of Microsoft .365.
What is Microsoft Office 365?

Microsoft Office 365 (M365) is a set of cloud-based software-as-a-service (SaaS) products. Depending on the subscription plan you purchase, it may include the latest version of Azure Active Directory, EndPoint Manager (Intune Mobile Device Management), Exchange Email, SharePoint and OneDrive online storage, Office Apps Suite (Outlook, Word, Excel, PowerPoint), Teams for Voice & Voice Calls, and much more. M365 is an evolving platform because new features and security are being added.
The plan you select will depend on the business needs of your employees. For small-to-medium businesses, we recommend Microsoft 365 Business Plans. For medium to large businesses with over 300 users, we recommend going with Microsoft Office 365 E3 or E5 plan. It has an unlimited user count, a larger mailbox size, and more.
The most popular plans include Microsoft 365  Business Basic, Business Standard, and Business Premium. For most SMB companies, we recommend  Business Premium because it provides great value that includes emails, calendars, storage, video meetings (like Zoom or WebEx), plus advanced security to help manage your risk. If you are a small business and need a larger mailbox size of over 50GB and advanced security protection with compliance, we recommend Office 365 E5 or one of the other Enterprise Plans.
Things have changed, Cyber attacks and ransomware are way up since people started working from home last year. We recommend adding advanced threat protection and data loss prevention by using Microsoft Business Premium or the Enterprise E5 plan for Compliance.
Factors That Influence Your Microsoft 365 Migration Cost
Once you determined the Office 365 Plan that is right for your business, you will need to budget for the cost of migrating your email from the current email system to O365.
For the purpose of this article, we will focus on the migration to Office 365 Exchange email only. We will not cover Azure Active Directory, Intune Device Management, SharePoint, OneDrive, Teams, or any other online products that are included in Office 365 plans as they would not be considered part of the email migration project. An email migration project will transfer all emails and folders from one email account into another email account. For example, from [email protected] to [email protected].
Here are some of the factors that could affect your migration cost:
Number of Users or Mailboxes
In general, the more mailboxes you have, the lower the cost per mailbox you will pay for the migration project. To be clear, ask for a Scope-of-Work (SOW) including "What Is" and "What Is Not" covered in the migration services. eSudo provides a complete SOW with each project.
Size of the User's Mailbox
The size of the user's mailbox refers to how large or the total of all email messages (all the email messages including attachments in one account). The larger the mailbox size, the longer it takes to migrate to Office 365. Some users with a large mailbox size (over 25 GB) may also have corrupted messages and may need to be cleaned up before the account is migrated over to O365. Some messages may not migrate if the attachment is corrupted or too large. To reduce the mailbox size, we often recommend emptying deleted messages and deleting any old sent messages over 3 years old. Alternatively, we recommend archiving messages over 4 years old to a local personal Outlook file. This will help reduce the amount of time it takes to download the messages (during the migration process), this also has the benefit of helping with the overall performance of your Outlook Client.
Existing Email Server or Data Source
Will the age of your current email system affect the cost of your migration? Migrating emails from older Microsoft Exchange server systems or non-Microsoft email servers will take more time to prepare before we start the migration process.
Integration with Windows Server Active Directory (On-premise)
Businesses that have invested in Windows Server Active Directory for user accounts and password management usually do not want to keep track of another password when moving to Office 365. There is a solution for this. Implementing Single Sign-on (SSO) with Active Directory using Azure AD Connect can help maintain the coexistence between Cloud and on-premise servers to use the same Windows Domain account password as for Office 365 email. I.e. one username/password sign-on for both Active Directory and Office 365.
The single sign-on integration between Office 365 and Active Directory Server makes it simpler to manage user email addresses and passwords and will result in saving time and money for your business; however, adding this feature contributes to more setup costs.
Integration with a third-party application or network devices
Do you have any third-party applications, such as a CRM, identity provider, network scanner, or copier, that need to send out emails? We will need to look into the compatibility of the application or network device. For example, the application or network device must meet the security requirements for Office 365 before it is allowed to send or relay email via the Office 365 mail server.
If so, we can assess your options and determine the time for setup and the associated cost involved.
NOTE: If you use third-party identity providers, like Okta and Duo Security, it also adds a new layer of complexity during the migration. Many larger firms use Okta because it provides single sign-on and Multi-factor Authentication (MFA) to Office 365 and other web applications.
Three Different Migration Options to Office 365 Email
While companies can migrate to O365 on their own, the most effective way to transition their environment, and to minimize downtime, is by relying on a Microsoft Cloud partner like eSudo.
eSudo offers a variety of services to get you started, from simply walking you through the signup and initial configuration to turn-key migrations from existing in-house email servers or another hosted email provider.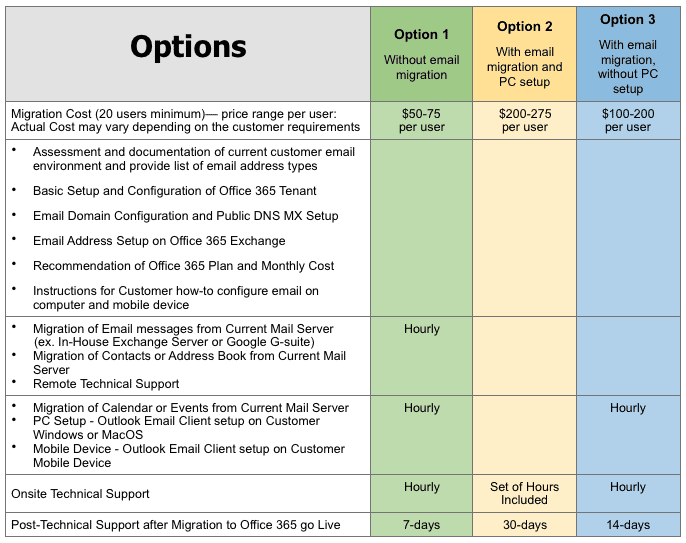 After the email migration has finished, there are a lot of features and automation your business can leverage Microsoft 365. Here are some suggestions:
Based on our extensive experience, eSudo can remove the worry and hassle from the migration process with proven results! Whether you have 5 or 300+ users, we have the experience to meet your organization's unique deployment needs.
Real Client Reviews and What They Are Saying...
eSudo has always been responsive and on time. They are knowledgeable
Ma. Guadalupe Garduno
2023-06-22
Excellent customer service, very diligent
I don't always write a review, but when I do.... it's a good one. Good partners in developing and supporting long-term performance, in-office and remote needs, cybersecurity safety and virtual workspace to take any office to the next level.
Matusich Raich Property MGMT
2023-01-27
eSudo is always friendly, helpful, and quick to respond! They are always there when I need them!
Anirudh Muralidhar
2023-01-11
Smooth interaction and support round the clock
Matthew was so helpful and patient: he untangled a multi- layered knots made by years of jury-rigged email systems. And he did it all with deep knowledge and good humor
Great customer service, fast response, always willing to help! Loved it!
There are hundreds of companies in Silicon Valley that offer computer support; it's a commodity service that every IT provider does for small business. What sets Matthew and his team at eSudo apart is they focus on security first, and IT support happens to be part of the security services. He helps small businesses like ours to keep systems up and running, ensure the data is available and the information accessible only by authorized individuals. If you are a small business owner or IT manager concerned with the security of your organization or need reliable, IT support, consider giving Matthew a call or message him.
Matthew and his team are fantastic. They are responsive, ask good questions, and make a strong effort to keep in touch when helping with IT issues. Would definitely recommend them to anyone shopping around for their business.
360Medical Supply
2021-10-22
Very professional team. Will use again. Thanks.