Hold face to face meetings at the click of the button! How? By using 3CX WebMeeting which is WebRTC based and eliminates the use of clients. 3CX WebMeeting, is an easy-to-use web conferencing solution that transforms the way you communicate and collaborate within your company and with customers. Save time and money by hosting your meetings online. 3CX WebMeeting is offered with three different deployment options: Integrated with 3CX Phone System, 3CX WebMeeting Server (On-Premise) and hosted by 3CX.
Say goodbye to plug-ins with WebRTC
3CX WebMeeting uses WebRTC technology to enable video and voice communications to take place through the internet browser. Participants can now seamlessly join meetings without the need to download any additional plug-ins.
Save Time & Money with Feature-Rich Web Conferencing
Today online meetings need more than video – presentations must be high definition and crisp audio quality as if you were there. Share your screen to demo software, or point users to a particular website using the co-browsing feature. Classroom features, such as surveying and feedback, allow you to keep your audience engaged. Assist your customers by offering them Remote Control of their Windows PC and hand over the meeting control to another participant.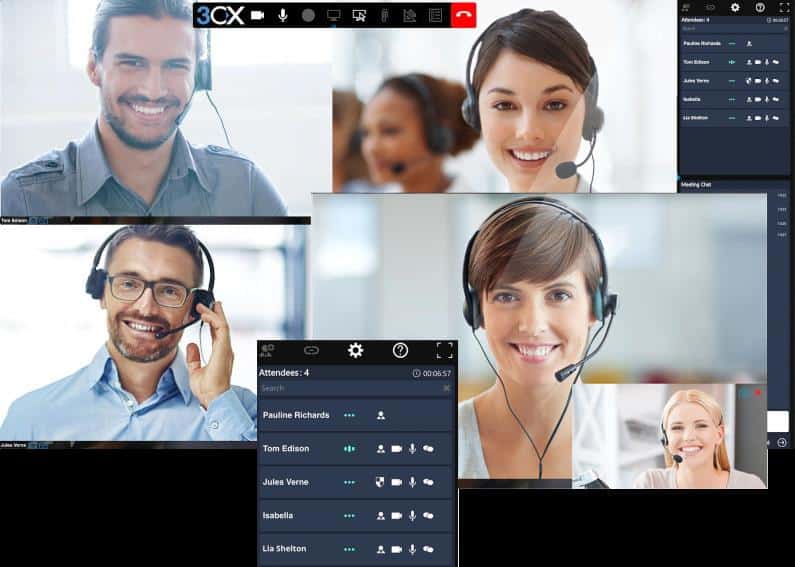 Take your Extension Anywhere – Work Remotely
With 3CX Android or iOS Apps, the 3CX Web Client and Mac or Windows Desktop Client, you can literally take your office extension home with you. Answer calls to your office phone extension via your smartphone device and transfers to colleagues without asking customers to call another number. Not only are all calls to the office free of charge, but employees can leverage one single number and make a professional impression.